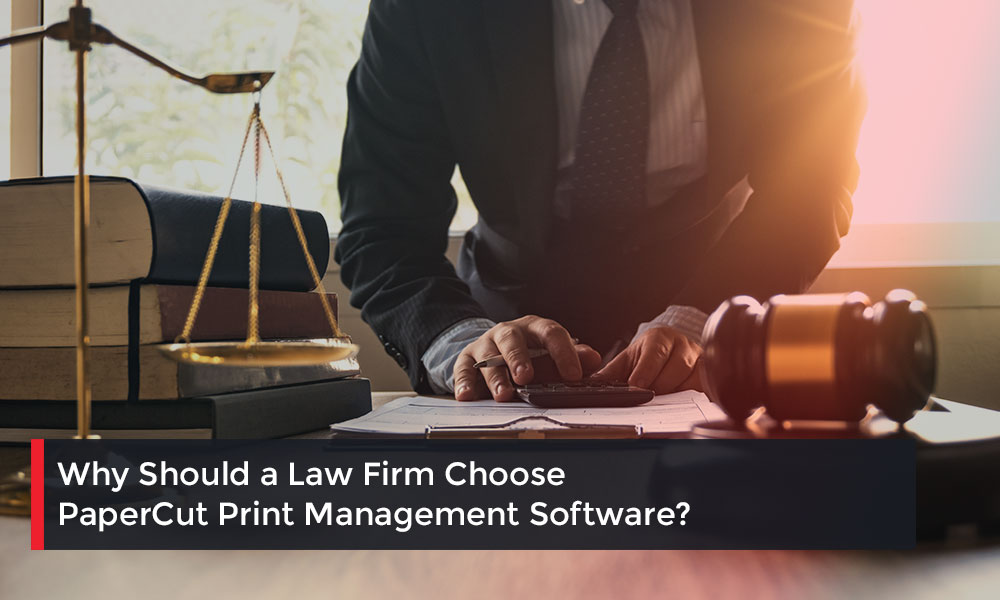 Law firms deal with hundreds of documents daily. Streamlining every aspect of the document workflow – including how documents are stored, secured, and printed – is a critical part of the profession.
For example, hackers today are leaving no stone unturned. The "stackoverflowin" hacking incident that affected 150,000 printers is a prime example of how important it is to secure every part of document workflow.
As cyberattack techniques become more sophisticated, law firms must take proper measures to ensure maximum security of all their documents. Vulnerabilities can occur even after documents are stored and printed. Utilizing tools such as PaperCut print management software can help you achieve that while making your overall printing process more cost-effective.
PaperCut Print Management Software for all Your Printing Needs
PaperCut is print management software that makes managing all your prints an easy, painless experience. The PaperCut MF solution offers features particularly suited to serve law firms' needs.
It offers basic features such as monitoring and tracking prints and advanced features such as advanced print job customization. It also provides an extra element of security with Secure Print Release and compatibility with RFID technology now standard on most professional multifunction devices.
PaperCut offers law firms the following features:
• Tracking. It has a tracking system that allows you to track all the documents that must be printed, copied, or scanned. This lets you create print logs that show when, where, and for whom print jobs occurred.
• Print Manager. There is a central administer that allows full visibility of all print activities on a web-browser. You can use this to set specific print credits for specific users and cut down on wasteful printing.
• BYOD Printing. Bring your own device (BYOD) printing enables users to print from any device. No more complicated routing paths from mobile to email and email to printer.
What Makes PaperCut the Best Print Management Software for Law Firms?
As an industry-leading option for print management software for law firms, PaperCut reduces security risks while improving the printing process for law firm billing procedures and client-oriented document processes.
In an environment where it's possible to print hundreds of documents daily, firms need to have well-defined document processes and policies in place. PaperCut lets administrators hardcode policies into the print environment, which leads to improved productivity, client data integrity, and overall profitability.
1. Makes Billable Prints Easier to Assess
Law firms tend to print a large number of documents for their clients. Manually narrowing down documents that were printed for each client and their individual costs can be time-consuming.
To make the recovering costs easier, PaperCut users can search through the database for documents associated with specific clients and swiftly calculate the cost to the billable account. This ensures that the right client is charged for the right amount and saves hours of time in the process.
2. Keeps All Documents Secure
All law firms must adhere to stringent regulations on client confidentiality. The last thing a firm wants is to have numerous documents printed at the same time and a confidential client document ends up out in the open, ready for all to see.
Most multifunction printers have an option to authenticate prints. When activated, prints only release once a user authenticates the process with a code while physically present at the printer.
They can also use an RFID card and scanner for the same purpose. This feature ensures that only authorized employees can print confidential documents and physically take them from the print area.
3. Provides Mobility
The BYOD model has made document workflow far much easier in many offices and it does the same for print management in the law firm environment. Like other industries, law firms too are quickly adapting BYOD models in different aspects of business processes.
PaperCut provides users the option to print from any mobile device. Users can print to any device in the office from anywhere in the office. The solution has various BYOD print options that make the print process secure and provides added flexibility to mobile users.
4. Can Be Integrated to Existing IT Infrastructure
PaperCut is a versatile software that works with any printer in any print environment. When integrating PaperCut, there is no need to change what already works in your existing printing environment. It also integrates well into third-party legal systems with the help of scripts and APIs that make automated policy easy to implement.
Take Control of Your Print Fleet with PaperCut Print Management Software
Print management is something that law firms don't always pay as much attention to as they should. However, your law firm can benefit from useful features and security benefits by employing PaperCut. Managed print providers can help assess your current print environment and determine how best to deploy PaperCut to enhance it.
Learn more about how PaperCut reduces wasteful printing by assigning print credits to users. Call DSI and speak to an expert!